Experienced Periodontists
Specialized Periodontic Care in Whittier, CA
What is Periodontics?
Periodontal treatments are primarily concerned with the gums, and also treat the attached ligaments, bones, and similar structures.
When decay damages these essential tissues, periodontic experts have the skill, knowledge, and experience to stop the damage. Procedures such as scaling and root planing eliminate deep-set decay threatening a patient's gums, while regenerative procedures help to restore strength to the gums. The periodontic specialists at Central DSC provide a wide range of treatments and have the skill and expertise to address many periodontic issues.
What Training is Required for Periodontists?
Periodontists first attend dental school to obtain the education and experience necessary to address dental health concerns. Then they undergo three years of additional education after dental school to specialize in periodontics. This gives periodontists a more in-depth understanding of the complex issues that can affect the gums, connective tissue, and other structures that anchor teeth. Our periodontists at Central DSC in South Gate, CA bring years of education, training, and experience to the clinic, and help to diagnose patients accurately and resolve issues effectively.
Our Periodontic Services
Teeth are not the only parts of your mouth that can be damaged by illness or decay.
The gums, ligaments, bones, and other structures are all vulnerable to bacteria. Periodontic services are designed to stop the spread of bacteria through these vital areas and restore your oral health. Your periodontic specialist will work with your dentist and use the latest technology to properly diagnose and treat periodontic issues that are causing you pain or discomfort.
Osseous Surgery
Guided Tissue and Bone Regeneration
Gum Grafting
Crown Lengthening
Dental Implants
Scaling and Root Planing
Perio Deep Cleaning
Non-Surgical Treatments
Regenerative Procedures
Pocket Reduction Procedures
Gingivectomy
Socket preservation
We Use Advanced Technology to Provide the Best Care
Infections and bacteria can cause extensive damage, especially over long periods of time.
The periodontic specialists at Central DSC use the latest technology to see problems sooner and heal damage faster. We use dental cone beam computed tomography (CBCT) to get an in-depth look at the inner structures supporting your teeth, so we can detect early signs and symptoms of illness or decay. This x-ray imaging technology gives us a 3-dimensional model of your teeth, gums, nerves, bones, and other structures, so we can create the most effective treatment plan.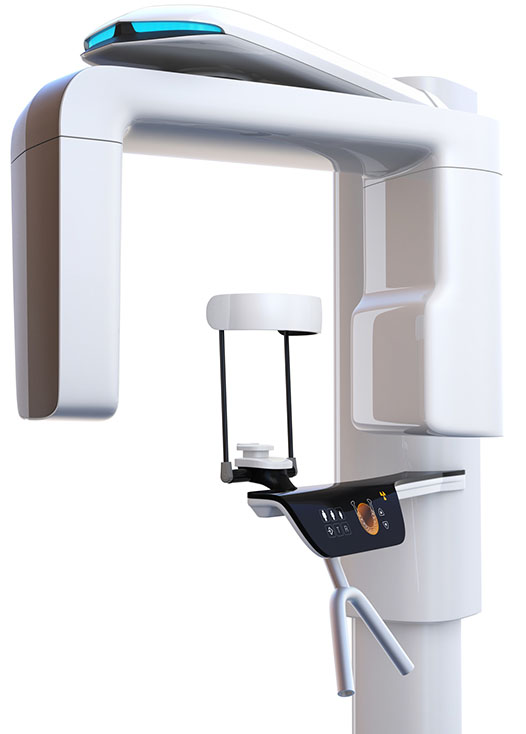 What Can I Expect During My Initial Perio Appointment?
At your appointment, your periodontist will carefully inspect your teeth and gums. First, they will examine the gum line to check for recession, which can indicate gingivitis or periodontitis. Your periodontist will also check the alignment of your teeth and see if any of your teeth are loose. They will also assess your gum health by checking the periodontal pockets between your teeth and gums. Deep periodontal pockets indicate gingivitis, while narrow pockets indicate healthy gums. The periodontist may also take x-rays to assess the health of structures that aren't visible.